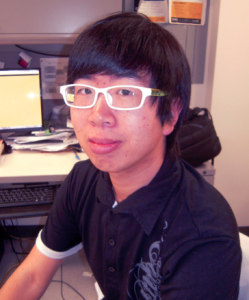 Zheng Zheng received his undergraduate degree in biochemistry from University of Colorado at Boulder in 2011. His undergraduate research includes drug synthesis and microfluidic devices.
Following graduation, Zheng worked at Thermofisher Scientific where he maintained and cloned cDNA and siRNA libraries.
Zheng Zheng returned to pursue his PhD in chemistry at UMBC in fall of 2013. Zheng Zheng is interested in the synthesis and analysis of nanoplasmonic alloy materials for energy harvesting and catalytic applications. The stability and tunability of nanoplasmonic alloys is vital for the development of efficient and robust solar energy harvesting systems. In addition, these materials are useful for their catalytic applications.
Outside of academia, Zheng is an avid electronics hobbyist with interests in home automation and green transportation.